Our Story
At CocoVibes, we're about all things fresh, natural and fun.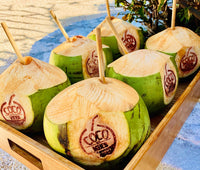 How It All Began
We began our journey in 2014 with the goal of creating a unique island experience using a naturally delicious resource found right here in the Turks & Caicos and throughout the Caribbean — the sweet and hydrating coconut. Since then, we've provided thousands of coconuts — each one plucked and prepared by hand — for award-winning hotels, countless birthday parties and weddings, and a variety of special events throughout the Turks & Caicos.
Nothing embodies the Caribbean quite like the coconut. We fell in love with the coconut, for many reasons and here is only three; It grows on a beautiful tree, tastes delicious and is healthy too! Let us satisfy your Caribbean craving with the ultimate island experience. With every hydrating sip, you'll be transported to a place where the sand meets the sea, and only one question will remain: To add rum, or not to add rum?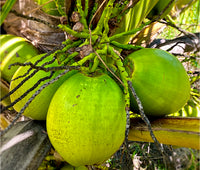 Made with love, delivered with love, to be consumed with love
--