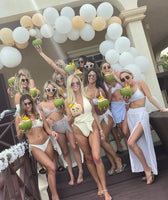 Tailored Events
Coco Vibes will add a personal touch to your event. We will customize your coconuts to provide your guests, family or co-workers with a special experience that puts a smile on their faces when they arrive.
Events include:
Private Villa
Corporate Retreat Training meet and greet
Business Networking
Family Reunion
Conventions
Or you're just happy it's Thursday and you invited everyone to celebrate!
Our events range from casual
flip-flops to suit and tie!!
Fill out our order form, and we will take care of the rest.
We look forward to celebrating with you soon. Thank you.